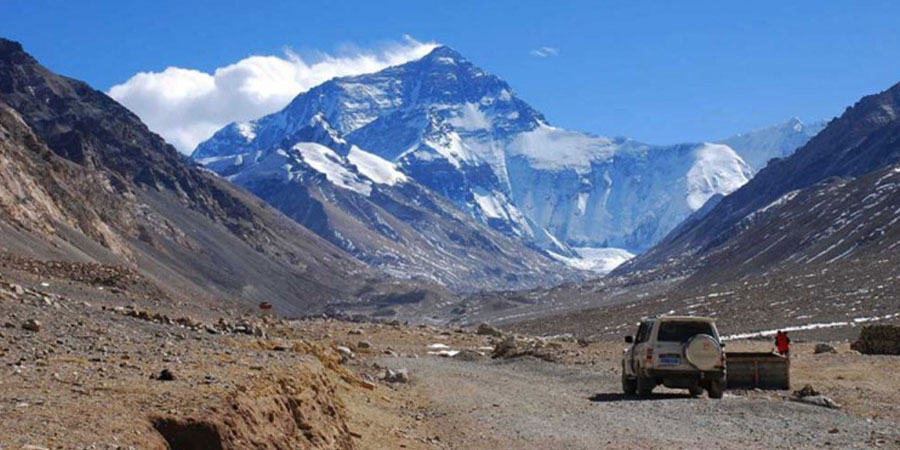 Tibet Overland Tour - $ 1895
Tibet overland tour is one of the popular tours in Tibet. Tibet overland tour is known as Tibet budget tour which is more interesting, crossing the high desert, driving through over 3000-5000 meters , visiting the cave , monasteries including the potala palace and clear view of Mt. Everest is visible from a distance make Tibet overland tour is lifetime experience in Tibet. Since Tibet has been open from 1985, more tourist are visited for the Tibet overland tour because of with in short period & tourist relaxing much more then other adventure trip in Tibet. Tibet overland tour is equally fascinating is the wealth of cultural interest and Tibet visitors will have plenty of opportunity to explore this side of Tibet, both in Lhasa and the other towns they pass through on their journey. Overland tour in Tibet take you heart of the Tibet. Tibet overland package trip take at 6 night 7 days but trip can extend if travelers want to go Tibet Everest base camp trip.
Tibet overland tour commence from Kathmandu, following with Friendship Highway through some of the most amazing landscape on Earth to Tibet border with in 5-6 hours drive. Early in the morning Our representative will pick up from hotel and drop the Tibet border for Tibet overland trip. Our representative will introduce with Tibetan guide after immigration formalities in Kodari /Tibet border. After immigration formalities at Tibet border ,Tibetan guide will inform you all about the Tibet historical places such as Zhangmu, Nyalam, Tingri, Xeger, Xigatse, Gyantse and to Lhasa. The Tibet overland tour distance covered is approximately 1000 km on four-wheel drive vehicles or a coach. Finally ,Tibetan tour guide will make interesting sightseeing around Lhasa including the Potala palace, Norbulinkha palaces, the great Drepung Monastery, Jokhang Temple, and walk amongst the crowded Tibetan market - the bustling Barkor Bazaar and eventually Our representative will drop to you Gogar airport near by Lhasa for onward destination either back to Kathmandu or other international flight destination. We will generate the Tibet overland tour itinerary according to your holiday schedule.
Note : Trip can be Customized as per your needs and time and Price can be Negotiated as per Itinerary details with Mutual Understanding
Day 01 Arrive at Kathmandu airport (1345meters). Overnight at hotel.
Day 02 Pre-trip Meeting and Sightseeing around Kathmandu valley. Overnight at hotel.
Day 03 Fly from Kathmandu to Lhasa (3660meters). Overnight at hotel.
Day 04 Sightseeing in Lhasa. Overnight at hotel.
Day 05 Second Day of sightseeing in Lhasa. Overnight at hotel.
Day 06 Drive to Gyantse (3950meters) - 261 k.m. Overnight at hotel.
Day 07 Drive to Shigatse (3900meter) - 90 k.m. Overnight at hotel.
Day 08 Drive to Shegar (New Tingri) (4050meters) - 244 k.m. Overnight at hotel.
Day 09 Drive to Ronguk (5000meters) - 68K.m. Overnight at hotel.
Day 10 Hike to Everest Base Camp (5150meters) and back to Rongbuk (5000meters) and drive back to Tingri (4390meters) - 65 k.m. Overnight at hotel.
Day 11 Drive to Zhangmu (2300meters) - 181 k.m. Overnight at hotel.
Day 12 Drive to Kathmandu(1345 meters). Overnight at hotel.
Day 13 Leisure Day in Kathmandu. Overnight at hotel.
Day 14 Transfer for your final flight departure.
Airport / Hotel / Airport pick up & drop
Accommodation on twin sharing room basis
A government licensed English speaking Tibetan Guide during the tour.
Food, accommodation, salary, insurance, equipment, medicine for all staff.
Flight cost from Lhasa to Kathmandu.
Tibet Travel permit, Chinese visa, Sightseeing and monasteries entrance fees as per our Itinerary.
Down Jacket and sleeping bag (which needs to be returned after the tour.)
Surface transfer from and to Kathmandu.
All our government taxes.
Official expense.
Nepalese/Chinese visa fee
Excess baggage charge(s)
Extra night accommodation because of early arrival, late departure, early return from mountain due to any reasonother than the scheduled itinerary
International flights
Travel and rescue insurance
Personal expenses (phone calls, laundry, bar bills, battery recharge, extra porters, bottle or boiled water, shower, etc.)
Tips for guide(s), porter(s) and driver(s)
Bar Fees