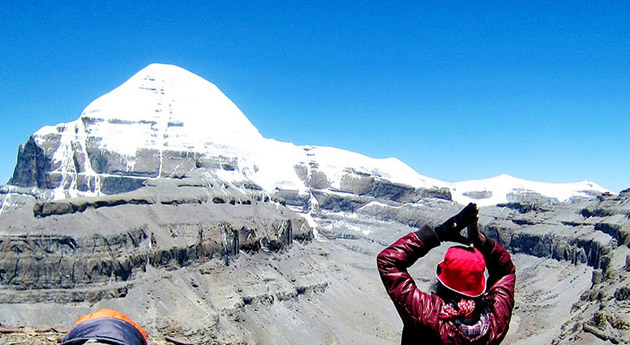 Kailash Manasarovar Tour - $ 5815
Kailash Manasarovar tour the most sacred place for Hindus i.e. Mt. Kailash. The mountain is the adobe of God Shiva and sacred for Buddhists, the Jains and the Bons. Hindus believe Mt Kailash is the adobe of God Shiva and the lake Manasarovar is the soul of Brahma. In Hinduism, m Shiva is the god of destruction and transformation whereas Brahma is the creator. Tibetans call this mountain as Kang Rimpoche. Pre-Buddhist shamanistic community regards Mt. Kailash as the soul of Tibet. Jains call Mt. Ashtapada which is the place from where the religion is found.
Mt. Kailash (6714m.), very sacred for the people of Asia and other countries who follow Hinduism, Buddhism, Jainism and Bonism is not visited not more than some thousands people because of its remoteness. The region is very important which has religious aspects to be visited as well as to get spiritually blessed. The single round trek to the mountain is supposed to be enough to erase all the sins of life committed ever.
Kailash Manasarovar Tour is the trekking to Manasarovar Lake at the altitude of 4510m on the Tibetan Plateau. This trek is to take bath in the lake after walking round the lake which is the trek of 85 km. Hindus believe having bath in this lake directly reserves the seat in Brahma's paradise and holy sipping of the water is enough to release the sins and nirvana from the cycle of birth-death.
Kailash Manasarovar tour is challenging and difficult trek. It is the journey to the high altitude with rough and rocky trails. Walking along the way to the remote area of Tibet requires enough strength and ability too. The tour is crossing the border of Nepal to Tibet therefore requires permissions such as passport and necessary documents.
Note : Trip can be Customized as per your needs and time and Price can be Negotiated as per Itinerary details with Mutual Understanding
Day 01: Arrival in Kathmandu
Day 02: Free day in Kathmandu with visa and trip preparation
Day 03: Fly from Kathmandu to Nepalgunj
Day 04: Fly to Simikot (2,985m/9,790ft) and trek to Dharapori
Day 05: Dharapori to Kermi (2,860m/9,383ft)
Day 06: Kermi to Yalbang (2,879m/9,445ft)
Day 07: Yalbang to Tumkot (3,073m/10,082ft)
Day 08: Tumkot to Yari (3,663m/12,017ft)
Day 09: Yari to Hilsa (3,647m/11,965ft) via Nara La pass
Day 10: Hilsa to Purang (3,772m/12,375ft)
Day 11: Purang to Montser (4,450m/14,599ft) and sightseeing in Tirtapuri:
Day 12: Sightseeing of Garuda Valley, then transfer to Darchen
Day 13: First day of Kora: hiking to Dira Puk Monasterys (5120m/16,792ft)
Day 14: Second day of Kora: hike to Dzutul-puk (4790m/15,765ft): 18km
Day 15: Third day of Kora: hiking to Darchen (4,560m/15,000ft) and transfer to Manasarovar
Day 16: Tour of the Mansarovar Lake
Day 17: Mansarovar to Saga (4,600m/15,088ft)
Day 18: Saga to Shigatse (3,900m/12,795 ft)
Day 19: Shigatse to Lhasa (3,650m/11,972ft)
Day 20: Final Departure
Pickups and drops from airport(s) and hotel(s)
Hotels in Kathmandu, Nepalgunj and Tibet. Teahouse during the trek
Breakfast in Kathmandu, Nepalgunj and Tibet
All meals while trekking in Nepal (only)
Flight from Kathmandu to Nepalgunj and from Nepalgunj to Simikot with airport departure taxes
Assistance in acquiring the Chinese visa
All necessary permit(s) and entry fees (including Tibet Travel Permit)
Hilsa, Kailash, Garuda valley, Lhasa transfer by private vehicles (van or Hiace or bus)
English-speaking, trained and experienced local guide(s)
Fees for porter or horse from Simikot to Hilsa and during Kora
T-Shirt, sleeping bag , down jacket, and duffle bag
All applicable taxes and service charges
Lake Mansorver Kora bus fee
All necessary paperwork
Nepalese/Chinese visa fee
Excess baggage charge(s)
Extra night accommodation because of early arrival, late departure, early return from mountain due to any reasonother than the scheduled itinerary
International flights
Travel and rescue insurance
Personal expenses (phone calls, laundry, bar bills, battery recharge, extra porters, bottle or boiled water, shower, etc.)
Tips for guide(s), porter(s) and driver(s)
Bar Fees